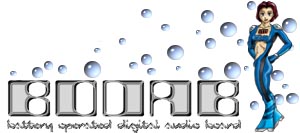 ** NOT A STOCK ITEM **


The Technovision BODAB Sampler is a very cost effective solution to audio sampling. This device can be attached to a metal plate that can be mounted to a display or inserted into an enclosure as simple as a cardboard box. This device can be powered by 4 "AA" batteries (or 9v power supply) and can play multiple audio samples stored on a recordable audio chip.
Technovision can provide custom developed firmware for the BODAB if you require features not standard with the unit.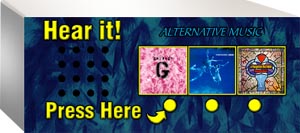 MANUALS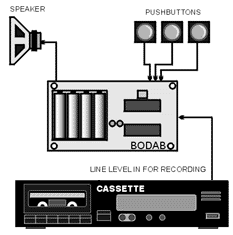 Can be battery operated
Recordable
Speaker volume adjust
Record level adjustment
Connector for 9VDC adapter
1 watt built in amplifier
4 ohm speaker available
30 sec (standard) to 4 min recordable chips available
Microprocessor controlled for future expansion


Power Requirements:
4 "AA" batteries
(optional 9VDC power adapter)
Power Consumption:
.01 to 2.6 mA (volume dependent)
Net Weight:
900g. (1.9 lbs.) with batteries
Dimensions (HxWxD)
127 x 311 x 57mm (5" x 12.25" x 2.25")
Operating Temperature:
32 to +132 deg. F (0 to +50 deg. C)
Operating Humidity
0 to 90 % non-condensing