** Currently out of production **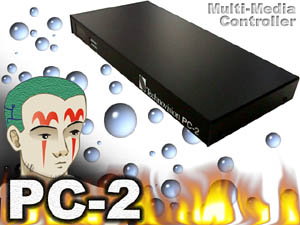 "TOTAL CONTROL"

The Technovision PC-2 is a programmable stand-alone control device, engineered to integrate a wide range of peripherals in the creation of complete interactive audio/video systems. Utilizing generic program cards or custom software packages, systems integrators and end-users alike can employ the Technovision PC-2 to function as the nucleus for systems such as: Point of Purchase Kiosks, Theatre Control, Coupon Vending Machines, Videowall Control, Interactive Audio/Video Preview Systems, Presentation / Speaker Support and Interactive Training Systems.
The PC-2 has been developed with reliability, expandability and ease of use as key design criteria, allowing you to have "Total Control" over your next interactive video system.




PDF FILES:
PC-2 Operating Guide
RSSEND User manual
SEG16 User manual
DVD4 (frame) synchronizer manual
DVD4T (title) synchronizer manual
Synchronizing information





User Programmability
Up to four RS232 devices can be controlled
Support for Pioneer DVD-V7400 and Philips DVD-175 DVD players
Up to 144 button inputs can be accepted
Touchscreens, Motion Sensors, Pressure Pads and Magnetic Card Readers are supported in firmware
Up to 20 output lines can control external TTL devices such as Lighting Controls, Relays and Video Switchers
Removable Program Card
Infrared Receiver
LaserBarcode compatible
Front Panel Status LEDs
Real Time Clock
8K x 8 Non-volatile Memory
Supports Pioneer "SR" controllable products
Easily integrated with Printer, Modem, Industrial MP3sa player, Video Switcher, LCD Display...