---
421VS Switcher
** non-stocking item **

---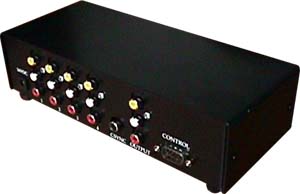 Click above for more images


Technovision manufactures a 4 to 1 vertical interval switcher with RS232 and TTL control. The switcher comes standard with RS232 and 2 or 4 wire TTL control via a male DB9 connector on the back of the unit. In 4 wire mode the switcher can be controlled with external momentary contact closures.
The 421VS is also compact (8.25" wide x 2" high x 3.5" deep) and comes standard in a desktop configuration, though rack mount kits are also available (421VS-RACK).
The 421VS comes standard with a composite sync output which eliminates the need to buy an external synch generator to lock the incoming signals.
In addition to the RS232 port for external control the 421VS has an additional RS232 port for custom applications such as controlling, and switching, two RS232 devices. Technovision can provide custom developed firmware for the 421VS if you require features not standard with the unit.



421VS Operating Guide
CUE2T Firmware guide
........more manuals



RS232 Control
TTL Control
External Button Control
NTSC and PAL switching
Composite Sync Output
4 Video/Stereo RCA Inputs
1 Video/Stereo RCA Output
Additional RS232 Port
Microprocessor controlled for future expansion



Power Requirements:
120VAC / 60Hz
(12VDC, 800mA power adapter included)
Power Consumption:
3W max.
Net Weight:
854 g. (1.88 lbs.)
Dimensions (HxWxD):
64 x 211 x 90mm (2.5" x 8.25" x 3.5")
Operating Temperature:
32 to +132 deg. F (0 to +50 deg. C)
Operating Humidity
0 to 90 % non-condensing