---
Technovision TecMP3
---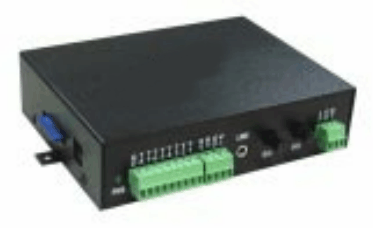 The Technovision® TecMP3(A) is an industrial MP3 playback device, capable of either continuous audio or interactive playback through user-selectable tracks. The TecMP3(A) is designed for kiosk applications, allowing for direct access to individual tracks of audio through various pushbuttons. The TecMP3(A) can also be triggered by motion sensors, computers, RS422, or RS232 multimedia controllers like the KPC2 or AC1 .




Power Requirements:
Input: 12 to 32 VDC.
120VAC/60 Hz to 12V DC adapter included.
Optional 24V DC power adapter available.
Idle Current: 60ma @ 12Vdc.
Active Current: 500ma @ 12Vdc (with 8 ohm speakers).
Net Weight:
1.5 lbs.
Operating Temperature/Humidity:
-30C to 85C / non-condensing.
SD/SDHC cards may have different ratings.
Dimensions (WxDxH)
5.3" x 4" x 1.35"



Operating Guide
Quick Reference Guide
........more manuals



ALL DIGITAL SD/SDHC player.
BUILT IN AMPLIFIER
Stereo speaker output (up to 15W/channel into 8 Ohm with 32VDC P/S) on screw terminals.
Plays ISO 11172-3 (MPEG1) MP3 files.
500 hour audio capacity using a 32GB SDHC card (optional).
RS232/RS485 port (DB9F).
External volume control knob for speaker and LINE outputs.
External balance control knob.
LINE OUT on a 1/8" (3.5 mm) stereo jack.
BUSY output for controlling relay(s).
Terminal connector for access to 8 tracks (direct) or 128 tracks in binary mode.
Access to 8x99 tracks in sequential mode.
RoHs compliant
Mounting tabs on the side.
Terminals or 2.1mm connector for power.
Hardware Options:

PC2-B4 Four Button harness
SP2.2 Commercial speakers
SD1G/SDHC4G 1GB SD/4GB SDHC cards


35-RCAF-A RCA ADAPTER


35-RCAM-C RCA CABLE