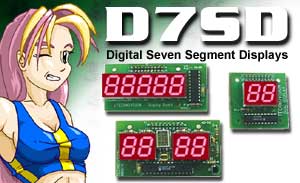 Very high LED reliability
TTL serial data control
Kiosk mountable
Brightness control




The Technovision D7SD boards provide a selection of inexpensive LED displays for various applications. These displays can be integrated with Technovision controllers and range from ½ " (2 digit) displays to 1" (5 digit) displays.

The D7SD boards can be used for displaying track numbers, countdown time, statistics or any other relevant numeric data.