---
Pioneer DVD-V8000
**Discontinued by Pioneer**

---

Closeup of DVD-V8000 front

The best industrial DVD Player you can choose for your business is one that is robust (MTBF of 50,000 hours). You need a player that has comprehensive connectivity; able to play high quality video for extended periods uncompromised by dusty, dark conditions.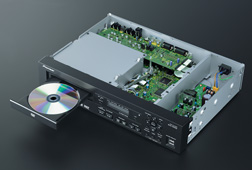 Pioneer's newest industrial DVD Player, the DVD-V8000, has everything you need for high quality video playback in a demanding environment.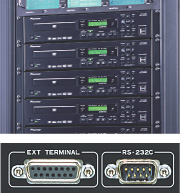 The DVD-V8000's tough black casing is suitable for a 19" rack fitting; the main operating buttons are large and designed to support simple, intuitive operation while an LCD enhances frame-accurate search capabilities.





MONITOR OUT (Seperate video with on-screen display)
Video/Audio pass through
DVI-D (HDCP Ver 1.) Output
1080i,720p,480p or 480i output (DVI-D)
USB for mouse or keyboard

Component Out on BNC connectors
S-Video Out
Composite Video Out
RS-232C
Digital/analog audio interfaces
Some Hardware Options: