---
DV-75 HiDef Player
**New model is DV75N**

---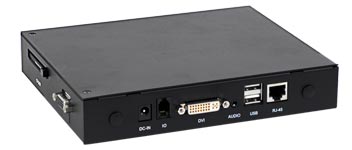 Click on picture above for more images



The Technovision DV-75 is a High Definition (HD) solid-state media player with varied applications. When used as a remote (networked) player, functions such as Automatic Content Updates from an internet server (via LAN or WLAN), content scheduling, MultiImage screens, ESYNCH synchronized playback, HiDef slideshow, and scrolling (banner) messaging are all possible. You can also make the unit "interactive" with the addition of a TV66K or KPC2. This will allow the DV-75 to function as a controllable, high definition solid-state playback device for theatres, kiosks and stand-alone displays. The RS232TTL control and built in MENU mode allows for button access to various interactive clips as well as multi-player, synchronized playback.

Package Contents:

DV-75 HD/NETWORK/SYNCH media player

100-240VAC to 12VDC wall adapter

IR remote control

6 foot VGA cable

6 foot 1/8" to 1/8" audio cable (M-M)

Some hardware options:
TV66K or TV66KC..Controller/Synchronizer.
KPC2..Multimedia Controller.
LD48..LAMP/LED Controller.

DV66RS232..DB9F-RJ11 RS232C adapter


35-RCAF-A..3.5mm to stereo RCA(F) adapter


35-RCAM-C..4', 3.5mm-stereo RCA(M)

TESW5..5-port hub for ESYNCH mode
TESW8..8-port hub for ESYNCH mode
MiniPCI WiFi card option.

DV-75 Specification sheet
DV-75 Quick Reference Guide F/W 2.42
........more manuals



Network and remote IP updating firmware included.
MPEG1/2/4, WMV9, MP3 and JPG.
JPEG supports up to 4096x4096 (BASELINE)
USB port for temporary content override.
VGA Output:
800x600&nbsp1024x768&nbsp1280x768&nbsp1280x1024&nbsp1366x768&nbsp1920x1080
CF card slot: FAT32 format
RJ12: RS232(TTL) I/O connector.
DVI Output: 480p to 1080p + VGA
3.5mm: LINE OUT audio (stereo).
2 x USB HOST Connectors.
RJ45: Network Port.
On-board Mini-PCI slot.
On-board s-video / composite / Digital Audio / component headers.




Power Supply:
Input: 100-240VAC, 47/63 Hz, TYPE B plug.
Output: 12Vdc (2.1mm center positive) @ 2A. The original version (prior to 2008) had a 2.5mm center positive.
Power Consumption:
300ma (average)
Net Weight:
330 g. (.75 lbs.)
Dimensions (L x W x H),/font>
7 -5/8" x 6" x 1-1/4"
185mm x 152mm x 47mm
Operating Temperature:
32 to +132 deg. F (0 to +50 deg. C)
Operating Humidity
0 to 80 % non-condensing