---
TV66K Controller
---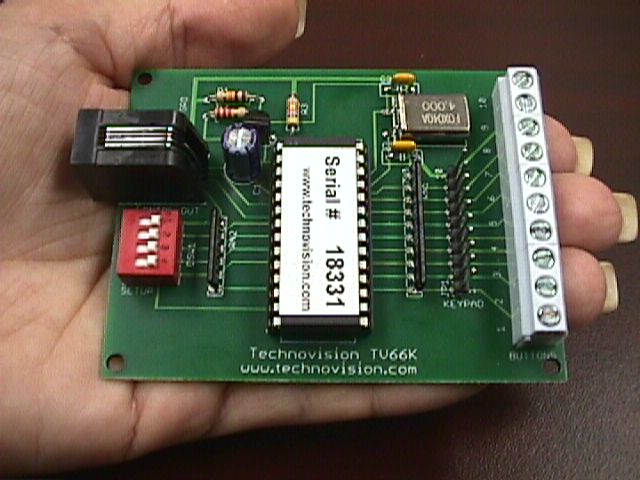 Click above for controller images



Includes 6 foot 4P4C cable to player
Connector for membrane keypads
Terminals for up to 25 buttons , KEY34 or motion sensors (will require T4LED firmware)
DIP switches to customize unit
Compatible with previous DV66/68 based MPEG2/4 players (and all-in-one units)
Compatible with DV75 series 1080p players
Inexpensive
Compact (2.5" x 3")
Packaged shipping weight less than 1 lb
Low power (30mA..47mA with 1 LED)
Available in metal case (TV66KC)

Current Operating Guide
Operating Guide for ver 1.41
Operating Guide for ver 1.40
Operating Guide for ver 1.30
........more manuals



The Technovision® TV66K controller provides the means to integrate reliable, heavy duty pushbuttons, membrane keypads, numeric keypad, or any contact closure into DV75N solid-state video applications. Motion sensors can also be integrated with the use of T4LED firmware (with button lockout).

After attaching the TV66K to the keypad connector on the DV75N, external dry contact closure devices can then be used to control the DV75N by connecting the appropriate terminals on the TV66K. Dry contact closures can then be used to simulate ANY keypad entry (or RS232 command) on a DV68/DV75N (depending on the appropriate installed firmware).

Uses range from simple track entries to full control of the MPEG2/4 applications, including the interactive synchronization of multiple DV68/DV75N players.

This device is recommended for interactive installations of DV68/DV75N MPEG2/4/HD players.

Hardware Options: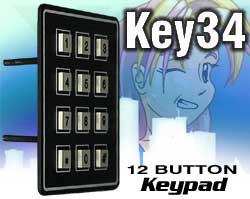 TV66KC.... TV66K mounted in a metal case.