---
DV-01 Media Repeater
---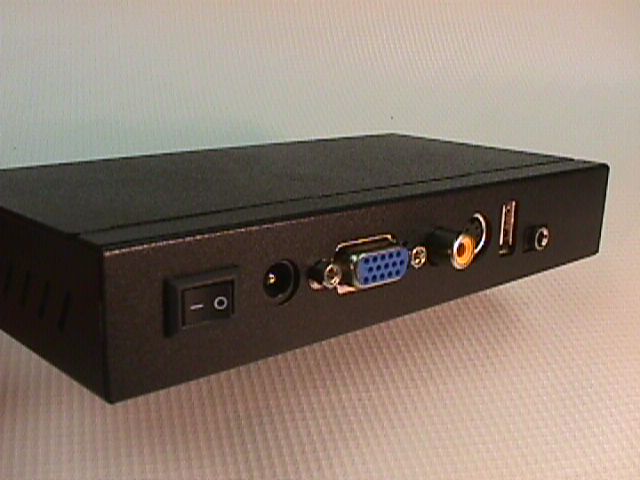 Click on picture above for a closer view



The Technovision® DV01 is an industrial MPEG2&4, MP3, JPEG and DIVX playback device, capable of continuous video playback. The DV01 was primarily designed for kiosk applications that require VGA, SVIDEO or COMPOSITE output while repeating individual files of video, JPEG stills or MP3 audio. There is also optional SLIDESHOW firmware available that will automatically cycle (upon power-up) JPGs with MP3 files playing in the background.




Power Requirements:
120/220VAC, 60/50 Hz
(+5VDC, 3A power supply included)
Current: 700ma @ +5VDC (620ma average)
Net Weight:
Player: 200g (1/2 lb)
Operating Temperature/Humidity:
0~60C (32~140F) / 85% maximum.
Dimensions (WxDxH) + connectors and CF card
158 x 100 x 29 mm (6.25 x 3.95 x 1.15")




ALL DIGITAL - no moving parts.
MPEG1/2/4, JPG, AVI and MP3 playback.
Supports SRT captioning.
Composite Video Output.
S-VIDEO Output.
VGA (640x480) Output.
Stereo Audio output on a 3.5mm jack.
Compact Flash for content playback.
SD & USB for JPG/MP3 content playback.
USB 1.1 port.
Power switch with LED.
4xM3x45mm mounting holes on bottom.
Remote included.
On board EEPROM memory.
RoHS compatible.
Hardware & Firmware Options:
CF-1G ...1GB HighSpeed CF cards
CF-2G ...2GB HighSpeed CF cards
DV01-AV..Video audio cable
3.5mm to RCA (female) adapter
3.5mm to RCA (male) cable
SLIDESHOW firmware available



DV01 Quick SETUP Guide
MPEG2 encoding guide
MPEG4 encoding guide
........more manuals