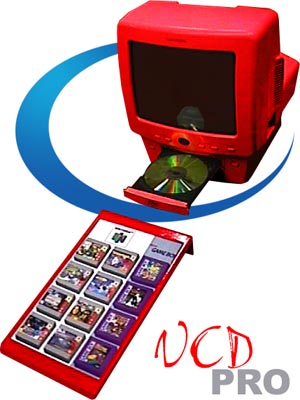 One-touch operation, optional Touch Pad
Plug and Play Setup
Full motion, full screen, digital video technology
Stereo sound
Integrated Monitor / Video CD unit
A self-contained portable solution
The preferred standard in worldwide markets
Used for all forms of communication, information and training
The VCD Pro unit uses full motion digital video technology, the preferred standard for all forms of communication, information and training - worldwide.
This specialized information tool is cost effective and simple to use, with a sturdy, one-touch remote. Users control the flow and pace of information, navigating to desired destinations within the content on the disc.
The video/graphic/text delivery platform demonstrates the use of a product or explains complex procedures with a simple-to-use format, and the user may return again and again to complicated or intriguing sections of the presentation. Multiple audio tracks permit multi-lingual applications on a single disc.
One of the most compelling and effective communication tools in existence, the innovative VCD Pro will revolutionize the way you distribute information. With the VCD Pro, your message will have greater scope and impact than you ever thought possible.