---
TV75K Controller
---

Click above for controller images


Requires 4P4C TTL serial cable on player
6P6C Connector for membrane keypads and buttons
3.5mm RS232 port
Compatible with DV75 based hd1080 players
Inexpensive
Compact (2.5" x 3")
Packaged shipping weight less than 1 lb
Available in metal case (TV75KC)



The Technovision® TV75K controller provides the means to integrate reliable, heavy duty pushbuttons, membrane keypads, numeric keypad, or any contact closure into DV75N applications requiring the control of RS232 devices as well.

After attaching the TV75K to the keypad connector on the DV75N-TTL, external dry contact closure devices can then be used to control the player by connecting them to the keypad port (6P6C) on the TV75K. Dry contact closures can then be used to simulate ANY keypad entry (or RS232 command) on a DV75N (depending on the appropriate installed firmware) as well as trasmitting RS232C commands to other hardware such as video switchers or any device with a RS232 port.

Uses range from simple track entries to full control of the hd1080p applications, including the synchronization of multiple DV75N players.

This device is recommended for interactive installations of DV75N hd1080p network players.

Hardware Options: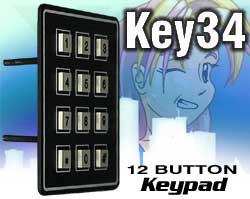 TV75KC.... TV75K mounted in a metal case.