---
TM21
---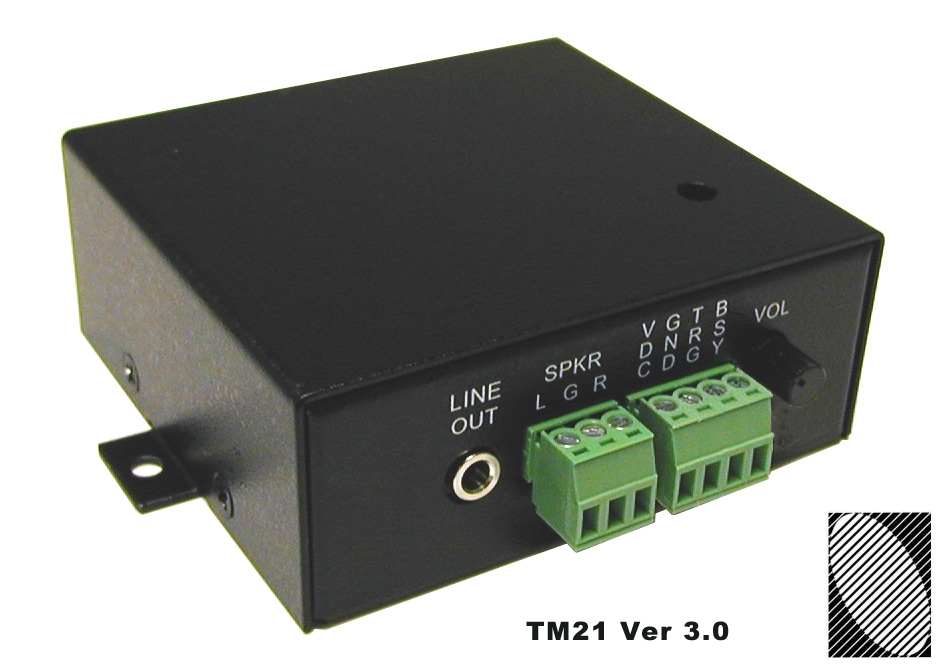 Click for more images


The Technovision® TM21 was primarily designed for kiosk applications, allowing for playback of MP3 (MPEG1-LAYER 3) audio through various pushbuttons, motion sensors or any device capable of a dry contact closure. Now, with the addition of the TM21SB board, you can now get RESTART, PREV, NEXT, VOL- and VOL+ functions using a MEM5 membrane keypad.




Power Requirements:
10 to 15 VDC regulated
125ma (idle) - 200ma (average)
Adapter (supplied): input 120VAC, 60 Hz
Net Weight:
less than 1 lbs.
Operating Temperature:
32 to +132 deg. F (0 to +50 deg. C)
Operating Humidity:
0 to 90 % non-condensing
Physical Dimensions:
Excluding connectors and mounting wings:
80mm x 73mm x 30mm (WxDxH)
3.1" x 2.8" x 1.3" (WxDxH)
Including connectors and mounting wings:
95mm x 92mm x 30mm (WxDxH)
3.7" x 3.2" x 1.3" (WxDxH)
Mounting Wings Dimensions:
Screw hole size on wing: 3.8mm (1/8")
Screw mounting distance: 87.5mm (3-7/16")



TM21 Operating Guide
Wiring diagram to a motion sensor
........more manuals



ALL DIGITAL - no moving parts.
Plays ISO 11172-3 compliant MP3 files.
Metal case with mounting wings.
120VAC-12Vdc P/S supplied
Stereo speaker output (6W/CH @ 4 Ohm).
Bridged mono output (8W @ 8 Ohm).
SD/SDHC card based (2GB SD, 32GB SDHC max). Cards available from Technovision.
Volume control knob for speaker and LINE output.
Single, sequential, random or timed playback.
LINE output on a 1/8" (3.5 mm) jack.
Terminal connector for button input.
All terminals support 30..16 AWG
BUSY output to activate low current relay.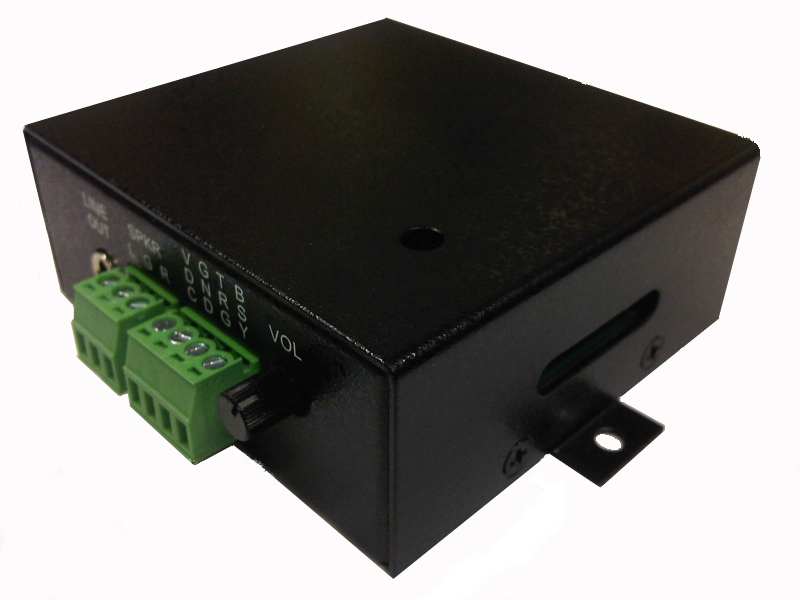 SD/SDHC card slot on the side

Some hardware options:


SP2.2 Bookshelf speakers.
* TM21SB membrane keypad add-on-board available.