HAS BEEN REPLACED BY THE KPC-2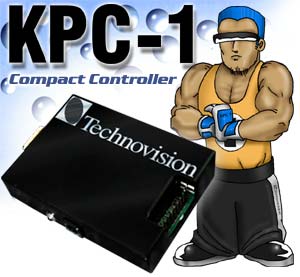 KPC-1 Compact Controller


The Technovision KPC-1 is a compact controller with varied applications. It can be used to control CD Players, LaserDisc Players, DVD, Video Switchers, and other RS232 devices. The KPC-1 can be used as a stand alone device with industrial button inputs or attached to a KEY34 keypad to add full function control to a "telephone style" interface.


KPC-1 mounted on a KEY34 keypad

DVD Synchronizing information
DVDS firmware manual



Two RS232 devices can be controlled
12 button keypad port
CD player control port
"Remote In" port
4 position DIP Switch for customer defined functions
2 LED status lights
On-board EEPROM memory for data storage
Microprocessor controlled for future expansion



Power Requirements:
AC 120V, 60 Hz
(9V DC, 500mA power adapter included)

Power Consumption:
1 W max.

Net Weight:
339 g. (.75 lbs.)

Dimensions (HxWxD)
2.2" x 3.15" x 0.5" (55 x 80 x 13mm)

Operating Temperature:
32 to +132 deg. F (0 to +50 deg. C)

Operating Humidity
0 to 90 % non-condensing