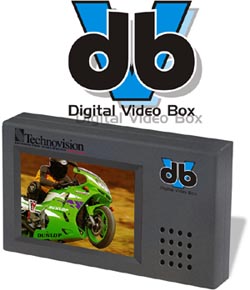 Display size: 5.6", 6.4" & up!
Flash memory storage
Speaker volume adjust
Custom Design

The Technovision Digital Video Box is an innovative little product that can be custom built to your specifications using a Flash Memory card as it's source. The display can be 5.6", 6.4" or larger. Sound can be provided internally or output to an external amplifier.
The dVb's tiny size makes it the ultimate choice for space conscious retail applications.